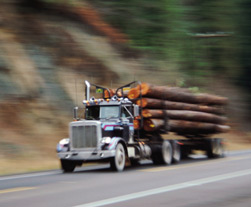 Legal Action for Trucking Accident Victims in Tampa, Lakeland & Orlando
With all the unrelenting pressures of daily life, any accident or reckless action that causes serious injury can have horrific personal and financial consequences. Some of the most devastating injuries we see occur in car vs. truck accidents, a frequent occurrence in the area that we call "malfunction junction" where I-4 meets I-275 in Tampa. Other commercial vehicle and trucking accidents occur on I-4 in Lakeland and Orlando, I-95 in Miami and West Palm Beach, and I-75 in Sarasota and Ocala.
If you or someone you care about has suffered serious or catastrophic injury in a crash involving an 18-wheeler, tractor-trailer rig or other commercial vehicle in Florida, it is extremely important to contact an attorney with the experience handling trucking and commercial vehicle accidents in the state of Florida to explain and pursue all your options.
Proven Resources for Investigation, Insurance Recovery and Settlement Negotiation
Over the past 12 years attorney Eric T. Taylor, we have helped many people throughout Florida get badly needed compensation to pay medical expenses, recover lost wages and deal with the aftermath of a truck accident. Our legal team is committed to working each component of your specific case, including:
Investigation and evidence collection to prove negligence by the truck driver or that driver's employer
Considering causal factors such as poor vehicle maintenance, a company's failure to properly conduct a background-check on a driver, or violation of specific laws for commercial transport
Uncovering all sources of insurance coverage and any other potential sources of compensation for you
Demonstrating the full functional, financial and emotional impact of your truck accident injuries, in order to maximize your recovery by settlement or verdict
Throughout the state of Florida – including Tampa, St. Petersburg, Clearwater, Brandon, Lakeland, Orlando, Ocala, Sarasota, and as far south as West Palm Beach and Miami – we have connections to excellent resources for accident reconstruction, sophisticated medical needs, engineering expertise, economic analysis and projections, and more.
A Lawyer with an Absolute Focus on Your Well-Being
Your lawyer's qualifications matter. So does trust, without intimidation — and we build trust through real attention to your personal needs. Led by widely respected attorney Eric T. Taylor, our legal team maintains constant awareness that we work for you.
When dealing with a trucking or commercial vehicle accident, we will prepare your case for trial as we drive decisively for a fair, sizable settlement. We are always willing to answer your questions, and we will keep you informed while targeting the best possible outcome. Please contact us today at 813-259-4444 for attentive, trustworthy legal counsel.